These days most actors seem to be jumping at the chance to work with Judd Apatow.
Apatow, who has been credited with some of the best comedies to come out lately, has written The 40 Year Old Virgin, Fun With Dick And Jane and Knocked Up, and now seems to be the new "it" film guy of the moment.
In addition to attaching his name to comedy gems like those, he also boasts an even more impressive resume by having produced Anchorman: The Legend Of Ron Burgundy, Talladega Nights: The Ballad Of Ricky Bobby and Superbad. As his new film, Walk Hard: The Dewey Cox Story, hit theaters, the magnitude of support from recognizable names is easily realized.
Too bad this time around Apatow missed the mark completely, despite having probably one of the strongest and most expansive cast of actors in Hollywood. This film also marked the first time John C. Reilly took to the big screen in a lead role.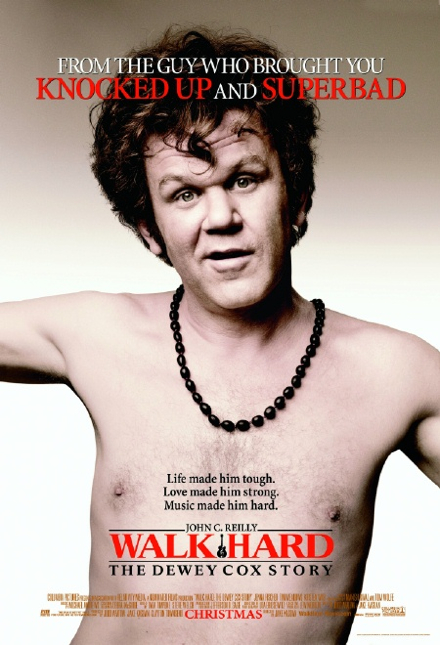 This movie focused on the fictitious life of Dewey Cox, a young boy who accidentally killed his brother in a machete fight when he was young. Ever since that incident his father hates him and is constantly saying "the wrong child died." With a new sense of depression and no sense of smell for some odd and unexplainable reason, Dewey finds himself able to play the blues. He starts to find inspiration and different sounds as his career is charted through the decades. And like any good musician's story, drugs and alcohol play a significant role.
The premise of this movie presented itself as one with promise. Apatow and co-writer Jake Kasdan took the time to sit down and mirror the movie Walk The Line, which was about the trials and tribulations of music sensation Johnny Cash. And as far as anyone can tell, they were able to follow that structure quite well. But when it came to inserting the jokes, many proved to simply be inoperable. A few were dragged out too long and some were never funny in the first place. Only a small number of great moments kept the viewer from walking out.
With no shortage of acting talent, music that would have any viewer moving in their seat and directing that does not disappoint, the large shortcoming in this film is made abundantly clear: the writing. You can have the largest army of talented actors and the biggest budget imaginable, but if the writing is not there, the previously mentioned assets count for nothing. This is the first time since Apatow's rise to comedy fame that he has disappointed. Many will be hoping this was just one bad apple coming from an otherwise fruitful tree.
This movie fetches a dismal C- rating in my opinion. If you are truly intrigued and feel like not heeding my warnings, please just wait to rent this film.